*Suffering from dead Sw,or Fm issues?After ensuring ALL contacts have been cleaned.Try testing/replacing for the SW mixer transistor 2sc930d(or 2n222a,cheap,& easier to find),& or the 10.7mhz i.f. mixer transistor for bandspread,again,transistor 2sc930d,or 2n222a.Although this is not a gauranteed fix,reaserch shows the 2sc930d transistor is common weakness.
*For "Fet" replacement original part #2N5484 is available from,
Their Website shows it as in stock to purchase online.
*Need dial string,dial string repair,switch replacement,or other misc.parts.email me.Most other repairs,are usually out weighed by shipping costs,and the time spent on tracing radio issues.
*Tech.Tips and Maintenance:
Always use a power bar with a surge protector or a simple surge protector inline when ever the radio is connected to power.
I have found,that this radio is very prone for dirty pot/switches.When not using the radio for long periods,cover it,or put the switches to work on occasion.Turning dials at random,it will save you taking it apart to clean the pots/switches again......
If your needing to remove the back of your radio,its easily done.Start by removeing the 6 phillips screws holding the back cover on,Before completley seperating the rear cover from the front cover,You will then need to unplug the 3 wire plug for the telescoping antennas.Strongly suggest having the manual,& know how if you plan on going any further.
Schematic Diagram-Audio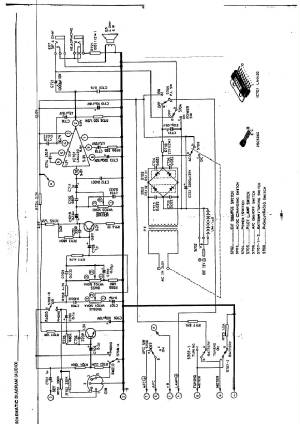 Schematic Flow Chart Diagram-Tuner